This post includes a list of 21 unique things to do in Aruba that you've probably never thought of doing before, but should book for your upcoming trip.
Unique Things To Do in Aruba
The list consist of three categories from beach, air and land activities. It has both low impact energy activity and adventure for thrill seekers.
You might of never heard from these activities before (that's the point), and some you've never gotten the chance to do it before, but totally should.
Cost of Activities in Aruba
The cost of activities in Aruba can range from different prices, some can be free, but some can range between $20.00 and $100.00 per person.
This depends on the type of activity and can range even more up to the hundreds of dollars depending on the exclusivity of the activity.
Should You Book Activities Online, or in Aruba?
It all depends on your personal preference, if you you don't want to be married to any activity you can wait until you're on the island to book. But doing this, depending on the activity you're trying to book it could be sold out for when you want it.
The best advice I can give is to book the activities online that you certainly don't want to miss, and the other ones that you don't really care about you can book on the island.
You can easily book the activities that are listed in this article by using the referral links to the companies website. There's a bunch of other reasons you should book your activities online…
It's fast, easy and you get the best price

Guaranteed access, experience a hassle-free trip

You will receive your voucher via email, print this voucher or show it on your smartphone at the meeting point
Keep reading to discover my list of unique and unusual off the beaten path activities while in Aruba…
Beach Activities in Aruba
The island is known for its beautiful beaches, but they're also popular among tourist that are looking for fun motorized (and non motorized) water sports.
Next to jet ski and banana boats, there's a dozen more water fun to experience on the island.
Here's a few of the beach activities in Aruba that are unique and worth doing, if you dare.
1. Jet Blade, Jet Pack & Hoverboard in Aruba
If you're looking for a wild ride consider doing jetblade in Aruba.
What's jet blade? It's an underfoot water propulsion equipments that lets you levitate above water. Are you ready to be propelled 30 feet in the air? 
Book the jetblade in Aruba here – It's going to be quite a rush to your brain.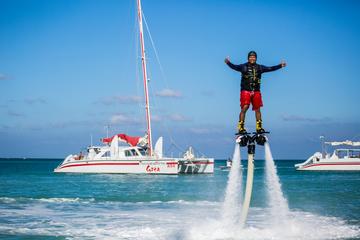 Jet Blade in Aruba – $102.50
from: Viator
There's also a propelled jetpack available if you want to learn how to fly.
It's designed to boost you up in the sky. Up to nine meters high, wow!
A certified instructor will teach you how to work with these machines.
Once you manage to lift yourself up you'll have freedom of movement and fly just like a bird.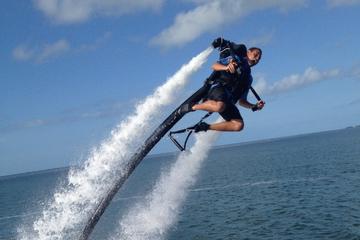 Aruba Jetpack Adventure – $102.49
from: Viator
Do you dare to do this one? If so, reserve your jetpack experience in Aruba.
If the jetpack or jetblade isn't enough adventure for you, try the hoverboard!
The hoverboard has enough power to propel you up to 40 feet in the air.
It's the next best thing between surfing and flying at the same time.
If you're really skilled you could be doing some tricks within no time.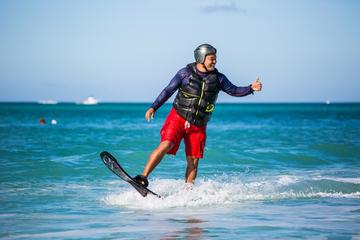 Hoverboard in Aruba – $102.50
from: Viator
Video For Jet Blade & Hoverboard
Check out this video that captures the adventure that awaits you…
2. Take A Trip on Aqua Donut
The first activities might not be for everyone, but taking a trip on the aqua donut maybe the water activity that's right for you.
The aqua donut is a motor powered boat that you can rent out (no need for boat license).
Go with the aqua donut if you're looking for an unusual way to relax on the beach.
One donut boat can hold up to 10 people.
For more information visit the aqua donut page. 
3. Rent a Private Boat in Aruba
There's plenty of catamaran that offer excursions on the island, but a few offer the personal experience like Octopus private boat in Aruba.
Octopus offers trips customized to your personal preferences. You get to create the days itinerary with the captain and crew members, tell them what you want and they show you the best way.
They have private snorkel tours, breakfast with champagne in the morning, wine, whiskey and beer tasting sessions.
There's over 26 different type of drinks aboard the ship. It's a minimum of 2 hours sailing depending on your personal package. Also includes sandwich for lunch, snacks and fruits.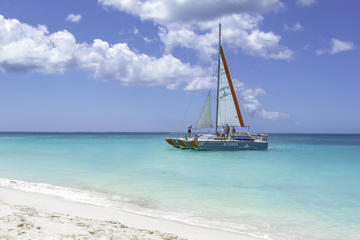 Octopus The Private Boat From Aruba! – $900.00
from: Viator
4. Climb Aboard A Submarine
Yes, it's true – Aruba has a submarine and it offers a truly different experience.  
The vessel departs from Atlantis in Oranjestad towards a journey over 150 feet below the waters. The captain takes you to two popular shipwrecks, and the barcadera reef which is known for colorful marine life.
I took one of these submarine tours once, and it was quite and experience, one I'd likely do again.
Atlantis Submarine Video
Curious what the submarine looks like and the tour?
Take a peek at the fun you can have inside this submarine…
5. Take The Kids To Splash Park
Are you traveling to Aruba with kids?
Bring them to the inflatable park located on the beach that's fun for the entire family.
There's plenty of attractions within the park like monkey bars and massive towers that are a challenge even for the most skilled climbers.
It also has a huge trampoline, which is one of the highlights of the place.
Buy the entrance for the splash park and get the family ready to challenge each other with climbing, running, crawling and bouncing into the water!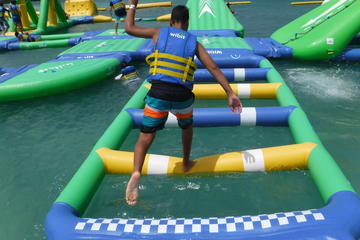 Aruba Water Park and Tour – $45.00
from: Viator
6. Snorkel The SeaBob Way
Snorkeling is exciting and it's always a fun thing to do on the island. But going snorkeling with underwater scooters (seabobs) makes the journey of discovering marine life unique.
Can you see yourself holding on to one of these water scooters as you blast your way through the ocean?  
The tours take place near boca catalina and bays near the area of malmok.
7. Go Diving, But at Night Time
Diving is a beautiful water activity that's mostly done during the day, but the fact that you can also go diving at night in Aruba makes it quite unique  and a must do for scuba enthusiasts.

It's going to be a whole new world when you go diving under the glow of the moonlight.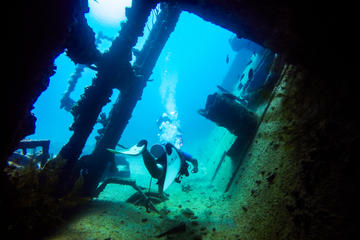 Red Sail Aruba Night Diving Aruba – $67.29
from: Viator
You must be a certified diver to book this excursion (and must show certification). Depending how long your last dive was, a refresher course will be recommended when signing up. This night diving excursion might not be the perfect one for beginner divers, but you can always book an introductory diving lesson in Aruba.
8. Do Yoga On a Stand Up Paddle Board
Are you attracted to blissful activities?
If so try doing yoga while balancing on a stand up paddle board. It's one of the ultimate ways to achieve relaxation in Aruba.
What's unique about this yoga class? It's done by one of the most popular yoga teachers on the island Yoga Girl.
Think you'll have a hard time being stable on the board? Don't worry they pre-anchored it to stay in place, so the only thing you have to worry about is focusing on the meditation. A fun new trend to try even once…
For more information & bookings visit the island yoga website. 
Air Activities in Aruba
Most of us belong to water or land activities, but this part of the list for unique things to do in Aruba, features activities that require you to be in the sky…

These following suggestions for unique things to do in Aruba are obviously for those who are looking for a wild experience and an unforgettable time on the island.

9. Up, Up and Away on a Parasail

Can you imagine yourself up in the air enjoying the panoramic view of the island?

If so, let one of the watersport boats tow you while your strapped to a kite up to 400 feet in the air.

They offer trips for single or double flyers for adults, kids and even if your in a wheelchair!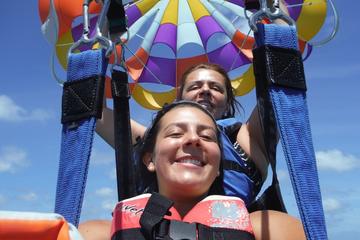 Aruba Parasailing Adventure – $62.00
from: Viator
10. Aim High Go Skydiving

Would you go skydiving?

Not sure right? Me neither..

Maybe someday I will, maybe…

However, if there's any place I would go skydiving for the first time, it will probably be in Aruba.

Skydiving Aruba is owned by two professional skydivers. The airplane is especially made for skydiving. And the instructors are licensed and comply with all regulations by the United States Parachute Associations.

Are you thrillseeker enough to sign up for this unique activity in Aruba?

For more information and bookings visit the skydive Aruba website.
Explore Aruba in Different Ways
The island is small in size, but don't let the perception of Aruba being tiny make you think there's nothing much to see on the island. In contrary there's plenty of sites to see and unique things to do in Aruba.
The most popular way to explore the island is with a land rovers, but there's many other unique ways to discover Aruba…
11. Segway Tour in Aruba
See the island on a two wheel all terrain vehicle that's pretty easy to ride once you get the hang of it.
I've driven one of these machines before and they're pretty fun.
They have different segways tours available starting from the hotel area alongside the coastlines towards Malmok coastlines for sightseeing.
They also have segways tours that go further towards the malmok coastlines Arashi beach and the California Lighthouse. Or book a private segway tour full customized to your personal preferences.
Segways are fun for kids and give you a taste for the off-road experience on the island with jeeps, atv and utv.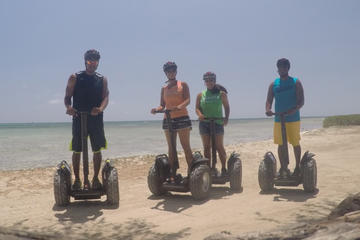 Malmok Beach Sightseeing Segway Tour in Aruba – $50.00
from: Viator
12. Wear Boots and Go Hiking (or mountain biking)
Are you the type that likes to go out in nature?
If so consider a hiking trip to explore the island by foot on the islands outback trails.
Aruba is for the most part desert and dry landscape which makes for a perfect hiking opportunities.
The best place to hike is within National Park Arikok, because of the awesome trials to miramar and jamanota which gives you spectacular views of the north coastline of the island. It's really incredible.
During the trip you'll see cactus, rock formations, caves with ancient indian paintings, goats, donkeys, shocos (Aruba's burrowing owl) and beautiful views, you won't believe the stunning scenery exist in the world.
You can even book a private mountain bike tour on the island with a guide that will take you through the outback to see the island in a unique ways and point of views.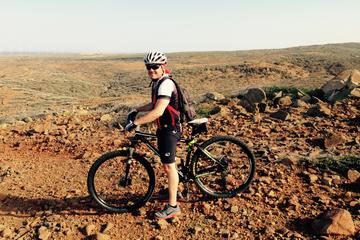 Personal Advanced Mountain Biking Tour in Aruba – $160.43
from: Viator
13. Go Off Road
No matter how many times you discover the island by jeep, utv or atv it remains one of the most unique things to do in Aruba.
What makes this activity unique? Every visit can be different and you always encounter new secret coves, caves and private beaches.
There's different tours you can choose from atv tours that include swimming at natural pool or utv tours to iconic sites around the island and hidden bays like blackstone beach.
Depending where you want to go, a standard rental car can be enough to explore the country side of the island, however if you want to visit sites like natural pool you need to rent a jeep or book a tour to take you there.

You can also rent and drive your own utv or atv to explore the island on your own.

14. Take a Ride on a Trike
See the island on a trike guided tour.
A trike is a three-wheeled motorcycle. It's an unique thing to do in Aruba for couples.  
Can you imagine yourself rolling through the island on this awesome looking bike?
For more information and bookings check out the trike page.  
15. Explore The Island in a Spyder
There  are other unusual ways to discover the island, similar to the trike, but this is the spyder tour.
What's makes this tour different is the type of vehicles.

They're fun to drive and give you an adrenaline rush.

Spyder tours go to popular landmark,  beautiful beaches and local hangout spots on the island.  

Book one of these unique looking bikes and rev through the downtown area towards scenic places.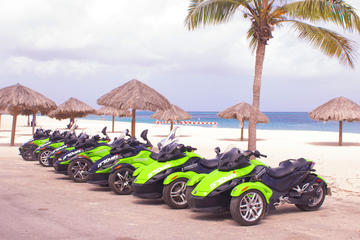 Aruba Spyder Tour – $200.00
from: Viator
16. Ride A Horse in Aruba
Want a more relaxing and unique way to explore the island other than a motorized vehicle?

Consider seeing what the island has to offer with horseback ride.

There's private ranches on the island that offer tours to national park arikok and even horseback tours to one of the islands hidden bays andicuri. You can even choose private horseback tours to a hidden lagoon.
Whichever excursion you take you'll be sure to see Aruba's beautiful views along the way.
17. Have Dinner & Watch A Frank Sinatra Show

You're invited to enjoy a dinner and a show by native islander Fred de Jong.
The local vocalist channels Frank Sinatra through his music as you enjoy spectacular dishes and drinks in the evening. Fred de Jong also covers other popular romantic songs.

It's a must try activity if you love Frank Sinatra's music and culinary dishes on the island.

The show takes place once a week and is one of the unique things to do in Aruba for couples.
18. Summer Bike Vibes
Are you looking for a fun way to go sightseeing and  spend time in Aruba with friends?
Then maybe you should look into booking a trip on the summer bike vibes.
You and friends can enjoy drinks while you pedal down the strip on palm beach and eagle beach…
Find out more information & bookings visit the Aruba summer bike vibes page.
19. Sing on a Karaoke Bus
Aruba has a lot of different excursions, but there's only one bar hopping bus that has karaoke on board.
The bus is known to also go bar hopping for free shots, bar jams and dinner tours.
Hop on the bus and sing along with a large karaoke tv screen that displays the lyrics as you make your way through the island. Visit Karaoke Party Bus Facebook page for more information.
20. See Pink Flamingos
I'm sure you've heard about pink flamingos on the island, and you want to visit them.
The flamingos live on a private beach owned by the Renaissance Resort.
They are the main attraction on this private island, but the private island is also great for relaxing and also offer different other unique things to do in Aruba.

You can visit the private island free if you're staying at the Renaissance hotel, in case you're not staying the tickets can start from $100.00 or more. If you really want to see these flamingos, I recommend staying a night at the Renaissance Hotel to get a free pass to the island. Check here for availability to spend a day or more at the Renaissance Aruba Resort & Casino.
It's not possible to book a day pass to the private island in advance, so I advice to call the resort ahead of time to make sure they still have day passes for sale and reserve them then.
21. Try The Escape Room
Last but not least on my list of unique things to do in Aruba is the escape room.
It's a live action entertainment experience where you are locked in a room and the only way to get out is to figure out mysteries to unlock the door.
You'll be handed clues and puzzles and  have 60 minutes to solve the case.
Don't worry incase you panic and need to exit before time, you can. This activity is great for a group of friends looking for a kick and  something unusual to do in Aruba.
Video Escape Room
Want to see more about the escape room? Check out this video…
For more information & reservations visit the escape room page.
Plan A Trip To Aruba
It's not a secret that Aruba is special and turns every first time visitors into loyal repeat guests.
If you've been to the island once, you know what I'm talking about.
Planning a trip to Aruba is not an easy task, but once you've gotten yourself a plane ticket and a place to stay, prepare  for an unforgettable time of your life on the island.
Start researching the hotels deals on the island with one of my favorite tools to research hotels…
Sign Up For Aruba Updates By Email
Do you want more related articles about Aruba like this?
If so, sign up for our weekly newsletter to get updates about Aruba delivered straight to your inbox every week for free.
By signing up today, I will email you my "Aruba on a Budget" eBook filled with money saving tips for your vacation in Aruba.
Sign up now by typing in your email in the opt in form below.
---
Disclosure: This article may contain affiliate links, which means our partners will pay us small commission if you click an advertisement or a link and purchase something that I recommended on Vacations By Aruba. Please check out our disclosure policy and privacy policy for more details. Thank you for your support!
https://www.vacationsbyaruba.com/wp-content/uploads/2018/04/unusual-unique-things-to-do-in-aruba-featured-image.jpg
380
686
Angelo Limon
https://www.vacationsbyaruba.com/wp-content/uploads/2019/09/vacations-by-aruba-logo.png
Angelo Limon
2018-04-23 10:11:43
2018-07-05 07:50:19
21 Unusual & Unique Things To Do in Aruba You Haven't Done Yet